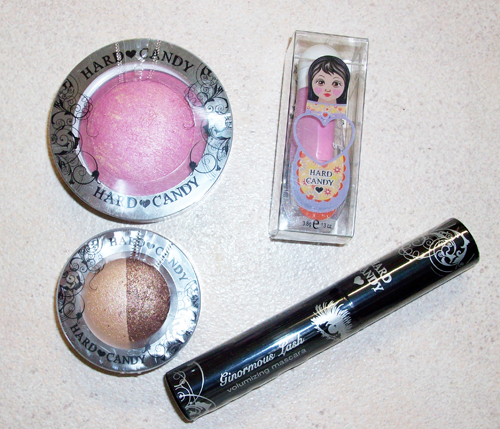 Hard Candy at Wal-Mart! Prices range from $5-$9. They've got a ton of stuff there that I have yet to try. I called and asked when they would have it and the stupid guy told me in the middle of the month, but I went there yesterday and to my surprise, it was there already! I was like OMG! I stood there forever trying to think of what I want. So I came up with these 4 so far. They have so much stuff, and FYI this replaced Max Factors spot.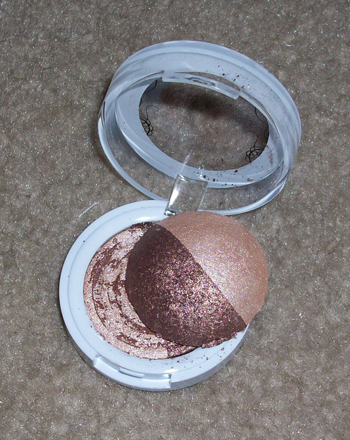 Eyeshadow Duo $6
The eyeshadow was really pretty BUT it broke on me. Talk about you get what you pay for. The packaging for everything is soo cute, but I was mad that this broke into pieces after taking this picture. They've got other sets of eyeshadows too.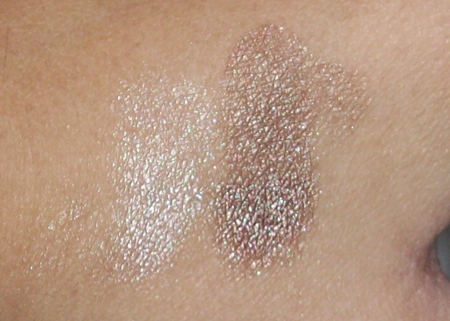 The pigmentation is great, I can probably say its the same consistency as Mac's mineralize quad I got.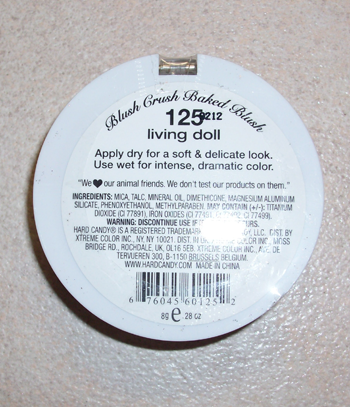 Blush $7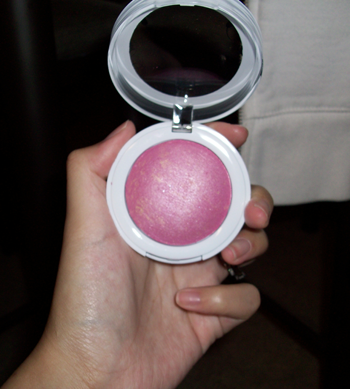 This is a pink pink with a silver undertone. Talk about glow! Very pigmented, you don't need much to get color on your skin.

Yummmm :P They've got 3 other colors that I want to get.
Their tinted lip balm $5.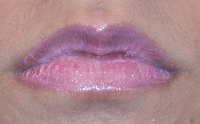 I love! It is sheer but I might just have to say a little bit more than that. It goes on buttery smooth and gives my lips a bit of a nude pink look. There is no smell or taste. I bought this one in "Jenny".
Their mascara was $6 I think. This one, I do not like. The brush looked wonderful but it barely did anything to my lashes. Sorta reminded me of what great lash does to my lashes..nothing! hahaha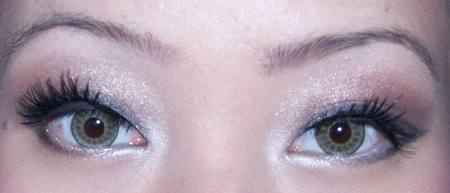 Colorvue Glamour in Green. LOVE IT!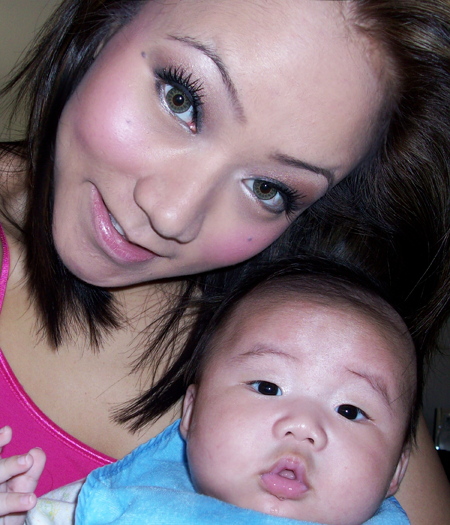 I am wearing Living Doll on my cheeks and Jenny on my lips. haha..jenny on my lips how funny :P
Overall, these products are definitely worth a try. i know a number of people who refuse to shop at wal-mart but i don't care. i definitely save more money shopping there. i never attempted to buy any Jemma Kidd or Pixi products from target..and I really don't know how well they're doing either. they're products are more expensive than Mac. I just wanted to get that off my mind.
anyways enjoy!