I honestly love baking, it takes patience to do so. These are the ingredients you will be needing (excluding the 1 egg, 2 tablespoon of olive oil, and 3/4 cup of water). The can on the left corner is sweetened condensed milk, and that is caramel syrup. The recipe calls for caramel ice cream topping which is probably thicker, but I wanted to do the squeezy thing at the end.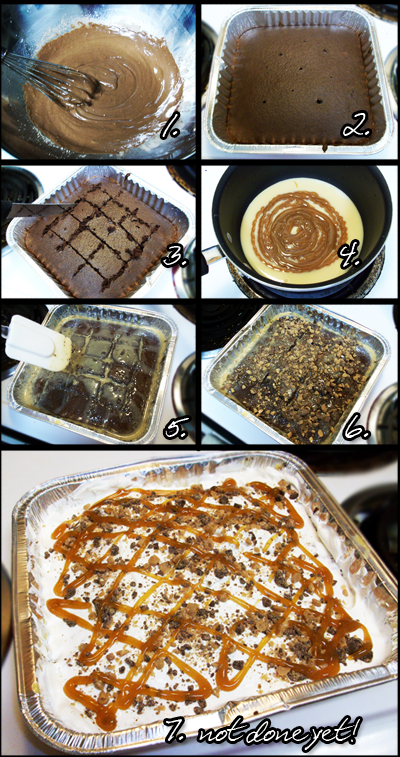 1. mix your cake and bake it the way it is directed. i used half a package so all of the ingredients are cut in half.
2. poke holes to make sure the cake is thoroughly baked (of course).
3. take a knife and cut slits but not all the way to the bottom of the cake.
4. pour a quarter of the condensed milk into a small pot on low heat. add the caramel to it, (however much you desire, you can keep tasting it) and stir. the syrup does not have to be hot, just get the ingredients to warm up.
5. after the cake has cooled down just a bit, pour the syrup into the slits. i actually made too much..but kept scooping it into the slits.
6. pour the heath chunks all over the cake.
7. let the cake cool completely, then top it off with thawed cool whip all over. take more heath chunks and sprinkle all over, then add caramel swirls!
8. FREEZE IT! it says to refrigerate it, but i found that it tasted so much better when i froze it because the cool whip thickened back up and the cake wasn't so soft...giving it some texture sorta like ice cream cake since the syrup kept it moist.